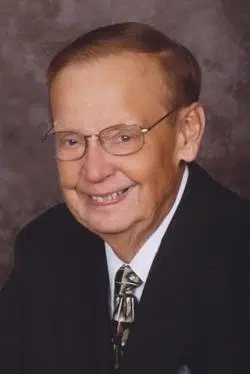 Larry A. Gipp passed away on Friday, January 6, 2017 at Evergreen Care Center of Shawano from a lengthy illness. Larry was born in the town of Hartland, Shawano County, to the late Arthur and Myrtle (Deering) Gipp on March 24, 1937.  He graduated from Bonduel High School in 1954.  After high school, he drove an egg route truck for Jordan & Sons.  Larry then attended Appleton Vocational School for auto mechanics and was employed at Chief Pontiac GMS Sales in Bonduel for over 30 years as a lube technician.  Later, he was employed in the automotive department at Montgomery Wards in Shawano for 10 years.  In 1997, Larry retired due to health problems.  On June 24, 1967, he was united in marriage to Patricia M. Vernosh at St. Francis Xavier Cathedral in Green Bay, Wisconsin.  Larry is a long time member of Peace United Church of Christ in Shawano where he served as an usher, worked at the chili dinners and helped at the church fair stand during the Shawano County Fair.  He is a member of the men's breakfast club at Peace Church, the Bonduel Community Archives, Shawano County Historical Society, and the Shawano County Republican Party.  Larry liked to go to music in the park on Sundays and if a country western band was playing, he would request "Waltz across Texas".  He enjoyed watching the Green Bay Packers, NASCAR on T.V., playing Sheepshead, Smear and Cribbage.  Larry enjoyed going to couples dances in the area and traveling to different states on vacation.  For Larry and Patricia's 25th wedding anniversary they went to Hawaii for seven days.
Larry is survived by: his wife, Patricia; sisters-in-law, Ila Mae Gipp of Shawano, Margaret Vernosh of DePere, Ellen O'Blenes of Green Bay and Barbara (Gary) VanderVest of Abrams; nieces, Brenda (Tony) Koeppel of Stevens Point and Michelle (Daniel) Moldenhauer of Waconia, MN; nephews, Arnold (Julia) Gipp of Bonduel, Matthew (Heidi) O'Blenes and Randy (Kim) Hill, Sr. of Green Bay; great-nieces, Candace (Nate) Strehlau of Wisconsin Rapids, Steffanie (Joe) Gehl of Hartford, Amanda (Ryan) Krause of Neenah, Crystal Hill of Green Bay and Elizabeth O'Blenes of Green Bay; great-nephews Jared (fiancée, Christi Krueger) Gipp of Neenah and Randy Hill, Jr. of Green Bay.  He is further survived by great great-niece, Maebel Strehlau and great great-nephews, Isiah and Monte Strehlau; as well as other relatives and friends.
He was preceded in death by: his parents; one brother, De Wayne Gipp; parents-in-law, Alvin and Mary Vernosh; one brother-in-law, Jerome Hill; and one nephew, Lance Cpl. William E. Hill.
Funeral services for Larry will be held at 11:00 am on Friday, January 13, 2017 at Peace United Church of Christ with Rev. Marty Black officiating. Burial will be in Woodlawn Cemetery in the spring.  Visitation will be held at Swedberg Funeral Home in Shawano on Thursday, January 12, 2017 from 4:00 – 8:00 pm and again at the church on Friday from 9:00 am until the time of the services.  In lieu of flowers, memorials may be sent to Peace United Church of Christ, Bonduel Community Archives, Shawano County Historical Society, and American Legion Post #117 of Shawano or the Shawano City/County K9 unit.
A special thank you goes out to Steve and Debbie Martzke, neighbors, the staff at Evergreen Care Center and ThedaCare Hospice team.