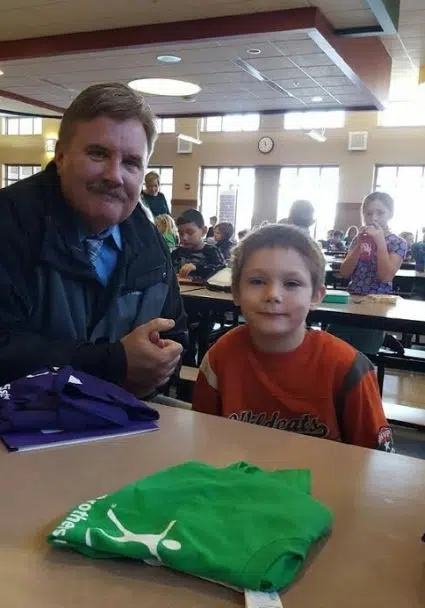 Big Brothers Big Sisters of Shawano County is in its second year of existence, but already has made an impact in the community. Those behind the program have made sure to work towards the organization's mission, which is to provide children facing adversity with strong, enduring, and professionally supported one-on-one relationships that could change their lives for the better.
The Shawano Police Department believes they can help make a difference.
"We believe that a police officer probably exhibits that best type of role model within the community and we believe they will gravitate towards those type of relationships if we can encourage our officers to participate," said Shawano Police Chief Mark Kohl.
Chief  Kohl recently signed up to be a Big Brother for one child in the community. That's because the Shawano Big Brothers Big Sisters and Shawano Police Department have teamed up to start the program Bigs in Blue.
While Bigs in Blue is already a national program for Big Brothers, Big Sisters, Shawano County got the idea from an officer in St. Cloud Minnesota, who had a great experience in recent years. After seeing that success, Shawano County Program Coordinator Jen Bisterfeldt thought they would reach out to local officers, as she believes those in the police force are a natural fit to be a Big Brother.
"Officers are great leaders and great role models," said Bisterfeldt. "Kids look up to them, so naturally they are excellent at the role of being a Big, but also it's great to incorporate officers into the schools more in a positive light. It allows them to see the good things they're doing in the community and make them less afraid of a person in uniform."
The ideal situation for Big Brothers Big Sisters is to find a Big that the Little can look up to and relate to, which is why they are grateful for officers willing to take initiative, but Bisterfeldt explains those in uniform don't always have to be the ones stepping up to the plate.
Like how Chief Kohl visits Hillcrest Primary School for his Little, the program is site-based, which makes it easy to give just a little time, and the results can be life-changing for the Littles.
"It only requires one hour each week and you can do it over your lunch hour, you can do it right after school, and it's very, very easy for a Big to commit to," Bisterfeldt said. "Statistically, it has the same result as community-based programs overall. It makes a big difference to these kids and we need more Bigs. All around we have between 30 and 40 kids that are waiting right now."
The Shawano Police Department has been working on bridging the gap between the community and law enforcement. Chief Kohl says this helps send the message of what the department believes.
"I always believe it's a good thing to give back to the community and to give to those that may not get the leadership, mentorship, or comradery," said Kohl on the importance of being a Big. "My Little is in first grade and so far we're having a great time."
For Kohl, it has only been a couple of weeks, but he does not go unnoticed, even though he has not gone in uniform, he says other kids think it is pretty neat.
"I haven't worn my uniform out there yet, but when I do I'm sure it will really gather attention," said Kohl. "Even [when he visited] at lunchtime, the kids started gravitating towards our meeting place in the lunch room because they want to know who this person is."
Kohl says it doesn't take long for kids to flock and ask if he can be a Big Brother for them too.
The hopes by both Bisterfeldt and Kohl are that the other officers will participate in the young program and help make a difference for the Shawano Youth.