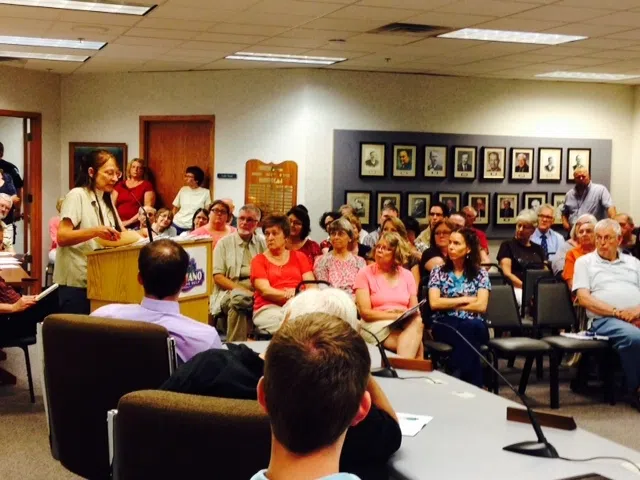 The word Blight did not go over well with many in Shawano. The City Redevelopment Authority created a new district to help improve property value, but many disagreed with the need.
"The establishment of the Redevelopment authority and the creation of the district is intended to give this city some tools and property owners within the district to help improve the condition and appearance of the properties within the district to help improve the condition and appearance of the properties within the district, which covers the city's commercial areas", City Administrator tried to explain at one of many meetings held to address the issue. "There are some properties that are in dire need of attention that have deteriorated to a point that we can all agree are blighted and a drain on the neighborhood and community as a whole and those are really the areas that are being focused on. The plan identifies 13 of those areas and that's where the focus will be."
Still many fought the fact that certain properties should be considered blighted.
"Anellos Torchlight, a brand new building, they are on the list?" said business owner Deb Noffke."
Though some felt worried about having blighted property, Knapp says they classified properties as such in order to provide more help to them
"The intention is to try to help property owners. Therefore, we tried to include as many properties as we could, we went out of our way to find conditions to match the statutory definition of blighted. That can be as little as peeling paint, a boarded window, a parking lot that is deteriorating, whatever we could find to be able to classify a property as blight, we used that to allow us to increase the number of properties within the district in hopes we can provide more assistance to those people" the City Administrator explained.
Others felt that listing a property in a blighted district would affect the property value and the opportunity to sell if they needed to.
Based on the public not agreeing the boundaries, the City Council initially voted to not approve the boundaries until some better understanding was given to the public. The RDA held an open house to allow people to address their concerns.
"If I am listed as blighted, how do I get off the list? was the big question.
The RDA and the City held a joint meeting, and after seeing most people had a better understanding of what was taking place, the City voted to approve the boundaries.
One major concern was that the city wanted to take much of the property that is blighted. Assistant City Administrator Eddie Shepard said that was not the plan.
"The city gobbling up a bunch of property is not going to benefit the city" said Shepard.
The RDA started working on the overall plan for help get the process moving.
TOP LOCAL NEWS STORIES OF 2016
#10- Friday December 23- SAM 25 Finds Success In First Year
#9- Saturday December 24- Shigella Bacteria Outbreak in Shawano
#8- Sunday December 25-Turnover In Clintonville
#7- Monday December 26- Shawano Elects A New Mayor
#6- Wednesday December 28- RDA Gets Push-back After Establishing Blight Boundary
#5- Thursday December 29-
#4- Thursday December 29-
#3- Friday December 30-
#2- Saturday December 31-
#1- Sunday January 1st-