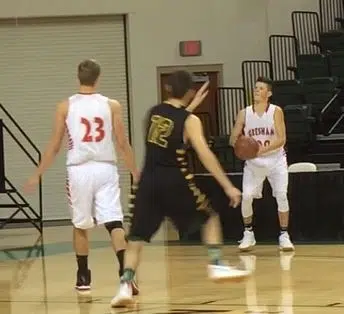 A pair of ranked teams known as the Wildcats squared off in the opening game of the Shawano Sundrop Shootout held at the Kress Center in Green Bay Tuesday morning. Edgar knocked off Gresham by a 56-48 final score.
Three players for Edgar reached double figures, but they were led by senior guard Alec Hafferman, who registered 14 points. Tyler Engel scored 12, that includes shooting a crisp 6-of-7 from the free throw line. Nick Koller added 11 points in the balanced effort.
Gresham's Drew Haffner was the game's leading scoring with 18 points, knocking down four 3-pointers. Todd Otradovec scored 10.
Gresham head coach Jeff Zobeck said although it's not the result they were hoping for, they'll still be able to take a lot from the experience.
"Our goal as we were preparing for this season was that we wanted to toughen our schedule up a little bit and play some tougher opponents, challenge ourselves, and I think that goal is accomplished," said Zobeck after the game. "Playing in a bigger environment will prepare us potentially for some postseason play down the road. It won't be the first time they walk into a bigger facility and play, so all of that's valuable."
The Shawano Sundrop Shootout continues throughout Tuesday afternoon and Wednesday.