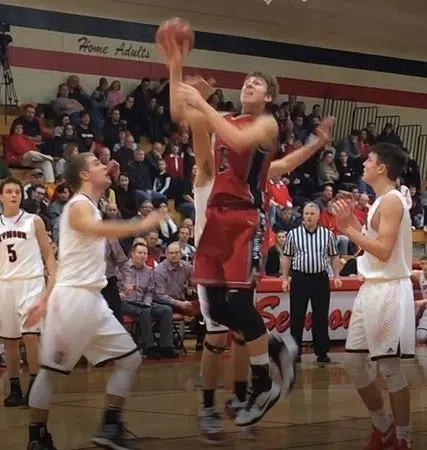 Red Raiders Win A Seymour For The First Time In A Long Time
Pulaski 69, Seymour 49
Wade Geenen and Jacob DeStarkey combined for 43 of Pulaski's 69 points, and helped lead Pulaski to a 69-49 win over rival Seymour. The Red Raiders jumped out to a quick start and never looked back. DeStarkey delivered points in the paint, while Geenen hit three shots from the outside to give Pulaski control. DeStarkey used his size advantage to help the Red Raiders on defense and said he had opportunities to help his team.
"They were leaving me open in the middle so I took a lot of those opportunities" said DeStarkey. "The team was hustling after rebounds and kept giving us chances."
Pulaski scored many second chance points in the game. Geenen led the Red Raiders with 23 points, DeStarkey added 20. Seymour was led by Trevor Cornell with 15. As a team, the Thunder shot 16 of 46 from the field.
Scoring:
Pulaski: Wade Geenen 23, Jacob DeStarkey 20, Trevor Stiede 8, Marcus Malewski 8, Luke Vandenhuevel 6, Griffin Robaidek 3
Seymour: Trevor Cornell 15, Nik Yaeger 9, Casey Yaeger 6, Riley Murphy 5, Trent Blake 3, Joshua Krause 2, Gaberiel Wieczorek 2, Rhett Drissen 2, Justin Vandenhuevel 2