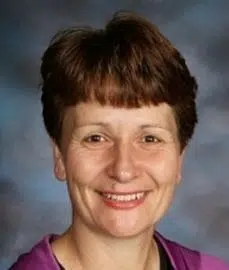 Karen Petermann, a physical education teacher at Longfellow Elementary in Clintonville, was previously named as the Teacher of the Year by the Wisconsin Health and Physical Education organization.
In her teaching, Petermann implements Teacher Effectiveness guidelines to help students learn to take personal responsibility for their learning by employing methods to challenge them to 'be better,' support personal fitness levels, all while enjoying numerous activities that also supports an interdisciplinary approach to teaching.
She is involved in co-curricular aligned activities such as Running Club, Breakfast Club, JRFH, Tasty Tuesday and Monthly Nutrition Calendars with food Drive collections help her reinforce educational goals.
Petermann has facilitated several projects developed through the affiliation of the WI Rural Educators Collaborate to Ensure Student Success (RECESS). She was also the recipient of the 2017 Midwest Award for Teacher of the Year.