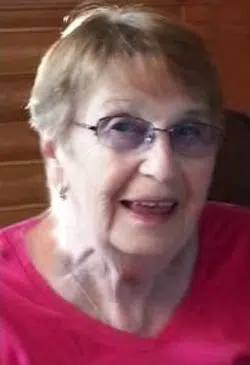 Florence "Flo" Welk, 83 years old, of Gresham, Wisconsin died on Monday, December 19, 2016. She was born at home in Red Springs on a straw mattress on August 7, 1933 to parents Oscar Schultz and Leora Putman. She is survived by her children, John Welk and his wife Sue (Munson), Barbara Welk Mendoza and her husband, David, Richard Welk and his wife Trisha (Sweere), James Welk and his wife Darlene (Grignon), and Brian Welk, sister Mary Schultz Katch and her husband Mathias, brother Oscar Schultz and his wife, Brenda, 11 grandchildren, four step-grandchildren, 1 great grandchild, 25 step great-grandchildren and many nieces and nephews.
Flo as known to her family and friends, graduated from Gresham High School in 1953 – first of three generations to graduate from Gresham High. She moved to Milwaukee where she met her husband, Alfred Welk of 36 years. They lived in Cudahy for several years before moving their family back to Gresham.
A hard worker and a great cook, Flo received her first cooking experience while she was a dishwasher at the Silver Spur at the age of 15. When all the cooks walked off the job her boss told her to get in the kitchen and start cooking! Throughout her life, she worked in many well-known supper club kitchens throughout the Gresham and Shawano area such as The Woodland, Pine Hills, and The Cypress. When she wasn't working she enjoyed the outdoors and feeding and watching the variety of birds feast from the many feeders surrounding her home.  She loved gardening and canning fruits and vegetables; cooking everything she harvested. Many in the community will remember Flo for her generous heart and kindness to others, always helping even when not asked.
Florence is preceeded in death by her husband Alfred, her son Bruce, brothers Alvin, Arnold, Merton, Larry, and Fritzie, and her sister Hilda.
A Celebration of Life will be held at 11:00 am on Friday, December 23 at the Swedberg Funeral Home in Gresham with Rev. Loretta Waegli officiating. Visitation will be held at the funeral home from 9:00 am until the time of the service.  A memorial fund for ThedaCare Hospice has been established in Florence's name.
The Welk family would like to thank the staff at the Birch Hill, located in Shawano and the staff of Theda Care Hospice for their love, support, and excellent care they provided not only to Florence but the entire family.