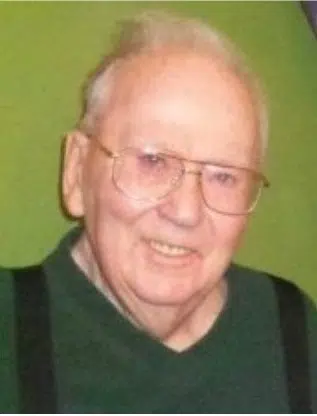 Neil C. Etheridgeage, 94 of New London, passed away surrounded by family Thursday, December 15, 2016 at ThedaCare Regional Medical Center, Appleton.
Neil Conrad Etheridge was born June 17, 1922 in Clintonville to the late Milford & Alice (Jenks) Etheridge. He attended school in Clintonville and graduated from Clintonville High School. Following graduation, Neil enlisted in the U.S. Army during WWII as combat infantry in the Philippines. He was honorably discharged from the military in December of 1945 and started work at the F.W.D. in Clintonville. He was united in marriage to Eva Reed on April 12, 1946, and the young family lived in many different locations around the U.S. for his work with the F.W.D. They finally settled back in Clintonville when Neil was promoted to a management position. Eva then preceded her husband in death in June of 1975. Neil was later re-married to Myrna Henes in Waupaca on June 25, 1979. He retired from the F.W.D. in 1986 after over 45 years of employment. The couple then moved to Mountain, WI where they spent most of their retirement years, only recently moving to New London in November of 2015. Neil was a lifetime member of the V.F.W. Post # 664, and was an active leader in the local Boy Scout Troop. He loved fishing from his pontoon boat and woodworking. Neil loved music, especially Big Band, Country, & Polka; he also played the trumpet. He loved spending time in his garden and was known to be very particular about his raspberry patch. Neil will be remembered as a family man who could fix anything, including any and all treasures that he found at the local dump; and Heaven help anyone who found themselves at Neil's dinner table with a hat upon their head.
Survivors include his wife: Myrna
Daughters: Jenny Aylward, Peoria, AZ; Laurie (Jerry) Reinert, Clintonville; & Kathy (Dennis) Danke, New London
A Son: Jeff (Gloria) Etheridge, Appleton
Grandchildren: Julie (Matt) Olson; Jeanne (Kevin) Montgomery; Jacque (Bob) Gibson; Jolene (Chris) Kearns; Petty Officer 1st Class Christopher J. Etheridge; David Etheridge; Joseph Reinert; Brian (Laura Pues) Reinert; & Kerri (Shawn) Tennie.
Great-grandchildren: Garrett & Tanner Olson; Taylor & Talan Montgomery; Hailee, Toree, & Emee Gibson; Blade Kearns; & Lila Tennie
Many nieces & nephews
Neil was preceded in death by his parents; a wife, Eva; a sister, Clavia Tews; & brothers, Eldred & Elwyn.
Memorial services will take place 11 AM, Saturday, January 21, 2017 at Most Precious Blood Catholic Community Church, New London, with the Rev. John Kleinschmidt officiating. Military honor rites will be conducted at the church by members of VFW Post #664, American Legion Post #63, and American Legion Auxiliary Unit #63, all of Clintonville. Inurnment will take place at Graceland Cemetery, Clintonville in the spring.
Friends may call at the church on Saturday from 9 AM until the time of the service.
In lieu of flowers, the family would prefer memorials be directed to the Lion's Eye Bank of Wisconsin, 2401 American Ln. Madison, WI 53714, lebw.org.
The Eberhardt-Stevenson Funeral Home & Crematory, Clintonville is assisting his family.
An online guestbook is available at eberhardtstevenson.com.
Neil's family would also like to thank Dr. Turk as well as the nurses and staff at ThedaCare Regional Medical Center in Appleton for their compassionate care during his stay.