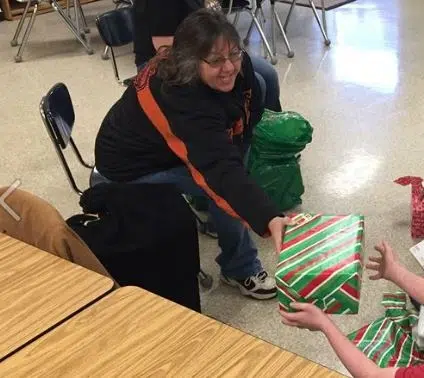 The holiday season tends to bring out the best in some people. One example is a local Shawano woman named Dee Lyons who is spending her time leading up to Christmas by making sure those in need are taken care of.
Lyons has made it her mission to take toy donations from individuals and businesses and make sure they're given to those who could use a little holiday cheer.
"About eight years ago, I started my own organization called Heaven Sent: Helping Families in Need," said Lyons. "Last year I had a donation of toys, and I just took the toys, and I delivered them to some of the schools. I didn't have enough for all the children, so I hit the special needs departments. I try to put seven or eight toys in a box, wrap them all up, then label it boy-girl and just hand them to the schools."
Lyons says that this year she's had more donations than any other year she has been doing these deliveries, which has allowed her to make stops at all special education classrooms in the Shawano School District. Wrapping and preparing the gifts are all done on her own time and dollar, but it's all worth it, she says.
"I just enjoy the looks on their faces," Lyons said of the children receiving the gifts. "This year we have a few more toys, so now I'm reaching out to Keshena schools, whereas last year I was unable to do that. Right now, I have 20 girls boxes waiting to find a home too."
While Lyons is busiest this time of year making sure children in need receive something special for Christmas, it's not only the holiday season when she is active.
"A few years back when Oklahoma had those 12, 13 tornadoes, I had 13 tons of stuff donated and delivered to Oklahoma, so I mean we've done some very big things here to help people," Lyons remarked.
Regardless of what sparked the increase in donations this year, Lyons says she's happy to spend her time making sure they go to a place in need. She figures she's made about 76 stops in total delivering the donations, which she believes is about halfway through her total.