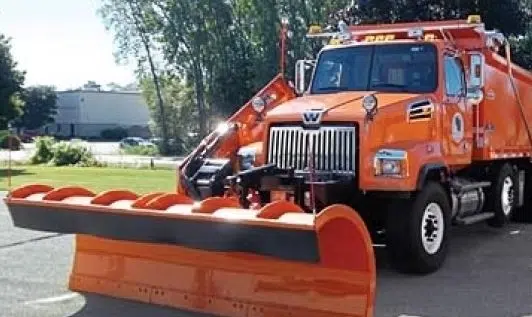 It's an inevitable part of the job for county highway departments, as they await the first time county plows are relied upon to pave a safe passage for the traveling public.
The snow plows were dispatched on Sunday in response to the snow showers statewide. For Shawano County, Highway Commissioner Grant Bystol says it's something they prepare for as early as October.
"Late October we'll start getting geared up," said Bystol. "That's our job. We make sure we're ready for it, no excuses. First snowfall of the year, we try to get our trucks out ahead of time, make sure they're hooked up, running around, and making sure we don't have any problems with equipment."
Bystol says on any given snowstorm, Shawano County is capable of having upwards of 43 plows on county roads to cover a total 1,700 miles.
In Waupaca County, Deputy Highway Commissioner Lance Penney says they prepare in early autumn.
"We usually start getting our trucks and things ready around September and we strive to have everything ready to go by the first of November," Penney stated. "We were pretty much ready to go, but it wasn't like we were shutdown. We still had construction projects going on and things like that, but for the most part we were ready to go as usual."
While Penney and Waupaca County were prepared, he did admit it was challenging for the plows because they needed to be out the entire day.
"The difficult part was it didn't just snow a few hours and then quit. It kept coming, and coming, and coming, so it was a constant process of scraping what snow had accumulated on the roads and re-salting them," said Penney. 
As always with the first snow fall of the year, some motorists forget how to handle slippery conditions, and both Penney and Bystol noted their counties saw a number of cars in the ditch.
Penney said, "You had your typical amount of drivers out there who didn't know how to slow down of course. People are not accustumed to driving as they are later in the winter, so there was a fair amount of people in the ditch out there."
Bystol reminds motorists the plows are out their to make travel safer for everyone.
"Go slow. Give [the plows] their space," said Bystol. "Take the few extra minutes in winter. Plan ahead, leave a little early, give the snow plows the extra space, and let them do their job." 
As a reminder, it is never recommended to pass a snow plow, regardless of how big of a hurry you are in. Other safety tips include driving without cruise control, always enough leave room to brake early, steer into the direction of a skid, and always buckle up.