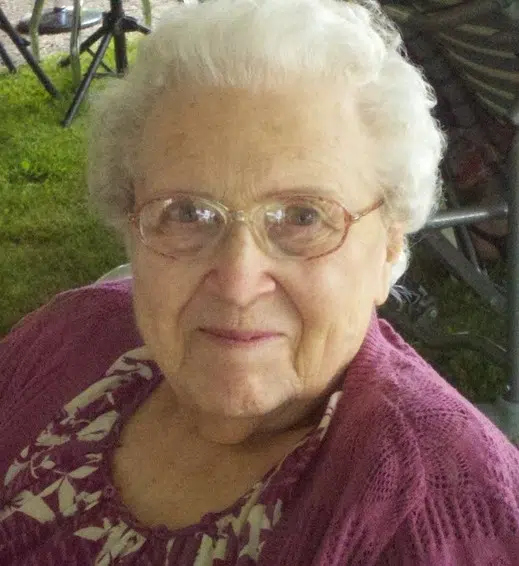 Lila V. Lendved, age 94 of Clintonville passed away peacefully Monday evening, December 5, 2016 at the Greentree Health & Rehabilitation Center in Clintonville.
Lila was born on October 23, 1922 in the Town of Maple Creek, Outagamie County as the daughter of the late Emery and Martha (Linke) Roberts. Lila was baptized into the Catholic faith as a member of St. Mary's Catholic Church in Bear Creek. She attended school in New London and later graduated from Hortonville High School in 1940. Lila later met Gordon Lendved at a local dance and the couple were united in marriage on November 7, 1945 in Three Lakes.  The married couple then resided in the Town of Deer Creek, Outagamie County and were members of Grace Lutheran Church in Bear Creek.  Gordon then preceded Lila in death on January 3, 1999. Shortly after his death, Lila moved to an apartment in Clintonville and became a member of St. Rose Catholic Church. She always had a beautiful flower garden; especially when it came to growing her gladiolas & dahlias. Lila loved to dance, and enjoyed playing cards. She especially loved it when she had an opportunity to play sheephead with her grandchildren. Lila will be remembered as a loving wife, mother, grandmother, great-grandmother, & great-great-grandmother who cared very much for her family.
Survivors include:
Her Children: Carol Bethke, Madison; Gary (Connie) Lendved, Kaukauna; Pam (Larry) Olson, Pulaski; & Linda (Mark) Mauel, Clintonville.
Grandchildren: Kimberly (John) Burton; Lisa Bethke; Rory (Kara) Lendved; Laura (Fiance Jeff Weiners) Lendved; Nicole (Fiance Chuck Gill) Lendved; Marcus Lendved; Dawn (Fiance Jamie Sinnaeve) Tooley; Dan (Karen) Tooley; Andy (Stephanie) Bonikowske; Keane (Fiance Stephanie Edwards) Rydzewski; & Dustin (Friend Emily Henschel) Rydzewski.
Great-Grandchildren: Aaron (Samantha), Abigail, Alex, Hollie, Sara, Ethan, Emma, Easton, Cayla, Adelyn, Alya, Annalese, Maddie, Kaia, Chloe, & Brody.
A Great-Great-Granddaughter: Piper, daughter of Aaron & Samantha.
Also 3 nieces and a nephew.
Lila was preceded in death by her parents, husband Gordon, son Timothy "Bear" Lendved, a son-in-law James Bethke, a grandson-in-law Chris Shoemaker, a brother Walter (Anne) Roberts, and sisters Mabel (Paul) Francowiak & Viola (Raymond) Scholl.
Lila's Mass of Christian Burial will be held Saturday, December 10, 2016 at 11 AM at the St. Rose Catholic Church in Clintonville with Deacon Lincoln Wood & Rev. Jack Mullarkey officiating. Interment will follow at the Graceland Cemetery in Clintonville. Friends may call at the church on Saturday from 9 AM until the time of the service. The Eberhardt-Stevenson Funeral Home & Crematory of Clintonville is assisting her family. www.eberhardtstevenson.com