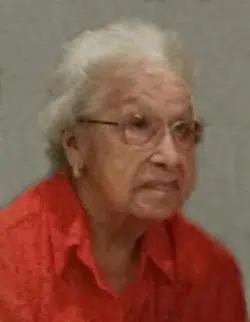 Isabelle Tippy V. Horton, age 92, of Keshena, passed away on Sunday, October 2, 2016. Isabelle was born on May 9, 1924 in Shawano, the daughter of the late Joseph and Mathilda (Kinepoway) Sackatook. On October 4, 1947, she was united in marriage to Ernest E. Jack Horton. He preceded her in death on September 16, 2000. Isabelle worked for the federal government for 30 years, retiring in 1991. In 2001, she returned to Keshena.
Isabelle is survived by her children, Carol (David) Armstrong and James (Lucy) Horton all of Keshena, and her grandchildren, great-grandchildren, and great great-grandchildren.
She was preceded in death by her husband, Jack, her parents, and one sister, Kathryn Walton.
A funeral service will be held at 11:00 am on Wednesday, October 5, 2016 at St. Michael Catholic Church in Keshena with Deacon Jim Lonick officiating. Burial will be in Our Lady of the Woods in West Branch. Visitation will be held at the Armstrong residence, N1995 Morning Star Road in Keshena from 2:00 pm on Tuesday, October 4, 2016 until the procession leaves for the church on Wednesday. Swedberg Funeral Home is assisting the family with the arrangements.
More Information http://www.swedbergfuneralhome.com/